5 Ways to Make Your Graduation Party Catering Pop!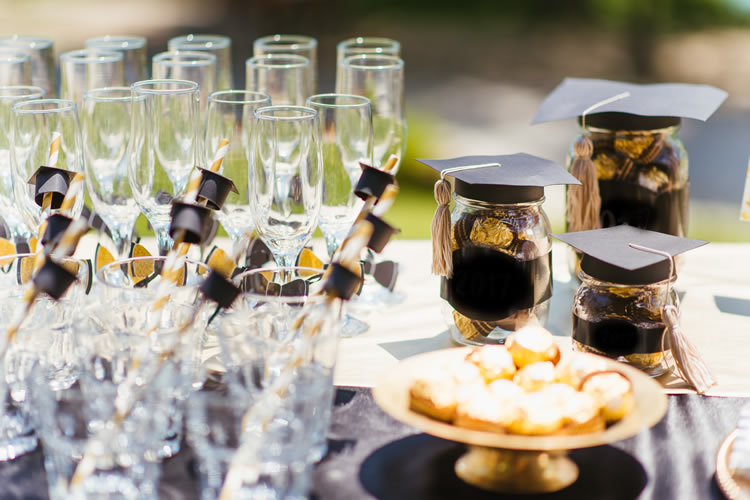 Show your 2021 graduate how proud you are by throwing them a graduation party they won't soon forget. As they are busy studying for final exams and getting ready for graduation day, it's time for you to do some prep of your own, planning their BIG graduation party.
Burnham's Clambake offers full-service BBQ and clambake catering for graduation parties all around the Boston area, most of Massachusetts, southern New Hampshire and Maine. We also offer professional bartending services for your graduation party to ensure your event runs smoothly and safely. Graduation is more than a celebration of success, it's also a first step into your son or daughter's fantastic future!
Here are 5 simple tips for hosting an unforgettable graduation party:
Graduation parties usually call for a wide variety of food. We can help you in selecting the perfect menu and deciding on how much of what you will need.
Why not let Burnham's Clambake handle all the graduation party details? You'll be able to relax, visit with your guests and enjoy your graduate's big day. We have decades of catering experience when it comes to graduation parties and know how to do them right!
Location, Location, location is an important step when it comes to your graduation party. Whether it is in your backyard, a banquet room, hall or even a public beach or park, keep in mind not every venue allows outside catering. We'll be happy to discuss your location ideas with you.
In the age of Instagram, Facebook, Pinterest, Twitter, and TicTok, the pressure is on to make your graduation party POP! Be sure to come up with a theme for your party and we can help you customize your menu based on the theme.
If your plans have changed or if you even forgot to think about hiring a caterer, don't let short notice prevent you from contacting us. Give us a call or complete our Get a Quote form and let's see how we can save the day!
Burnham's Clambake made our daughter's graduation party absolutely seamless & delicious!
Our goal is to make your graduation party a memorable event for both you and all of your guests. Customers know that they can depend on us to help them plan their graduation party menu with the perfect amount of food for all your guests.
Complete our online quote form to get started.