10 Tips for Hosting a Spectacular Outdoor Summer Event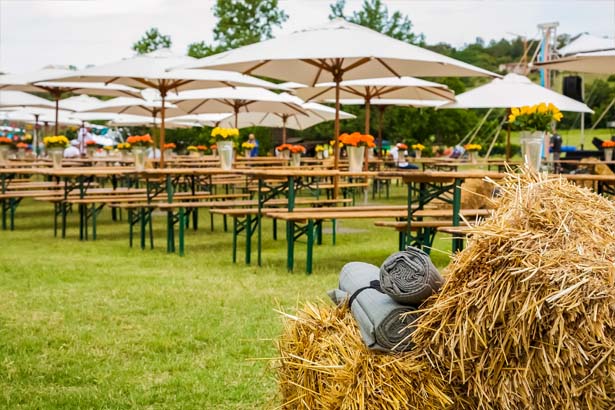 Summer is the perfect time to celebrate and soak up the sun with friends and family. Whether you're planning a backyard barbecue, company clambake, a poolside party, or a picnic in the park, hosting an outdoor summer event can be an exciting and memorable experience. To ensure your gathering goes off without a hitch and leaves everyone with unforgettable memories, we've compiled a list of 10 essential tips for hosting a fantastic summer event outdoors this season.
1. Choose the Perfect Venue:
Selecting the right location sets the tone for your event. Consider factors such as the number of guests, accessibility, amenities, and natural surroundings. A spacious backyard, local park, or beachside spot can provide a picturesque backdrop for your gathering.
2. Plan Thoughtfully:
Begin planning well in advance to ensure you have ample time to organize all the details. Create a checklist that includes invitations, decorations, food, beverages, entertainment, and any necessary permits. A well-structured plan helps keep stress at bay and ensures no detail is overlooked.
3. Embrace Creative Decor:
Decorations set the ambiance and theme of your event. Incorporate vibrant summer colors, fresh flowers, and thematic decor that aligns with the occasion. Think about table centerpieces, hanging lanterns, or even an outdoor DIY photo booth to capture those memorable moments.
4. Comfort and Seating:
Ensure your guests have comfortable seating options. Arrange chairs, benches, blankets, and cushions to create cozy spaces for mingling and relaxation. Consider renting extra seating if needed.
5. Weather-Proof Your Event:
Mother Nature can be unpredictable, so have a contingency plan for unexpected weather changes. Provide shaded areas, umbrellas, or tents to shield guests from the sun, and have a backup indoor location or rain plan in case of inclement weather.
6. Sumptuous Summer Cuisine:
Food is often the highlight of any event. Opt for a menu that embraces the flavors of summer—grilled delights, fresh salads, and vibrant fruit platters. Consider dietary restrictions and offer a variety of options to cater to everyone's taste buds.
7. Hydration is Key:
Stay hydrated in the summer heat by offering a variety of beverages. Water infused with fruits, iced teas, lemonades, and refreshing mocktails can keep everyone cool and refreshed. Don't forget to provide a variety of non-alcoholic options for designated drivers and non-drinkers.
8. Interactive Entertainment:
Keep your guests engaged with interactive games and activities. Set up lawn games like cornhole, giant Jenga, or a friendly game of volleyball. You could also plan a scavenger hunt or a karaoke session to add a unique touch to your event.
9. Beat the Heat:
Provide amenities to help guests stay comfortable in the summer heat. Set up cooling stations with fans, misting systems, and sunscreen. You could even offer a designated chill-out zone with hammocks or loungers for those needing a break from the sun.
10. Music and Atmosphere:
Create an inviting atmosphere with a carefully curated playlist that suits the mood of your event. Live music, a DJ, or a speaker system can keep the energy high and the party going. Just be mindful of noise levels if you're in a residential area.
The Bottom Line:
Hosting a remarkable outdoor summer event requires careful planning, attention to detail, and a passion for creating a memorable experience for your guests. By following these 10 tips, you'll be well on your way to throwing a spectacular gathering that captures the essence of the season and leaves everyone eagerly anticipating your next event. So, gather your friends, light up the bonfire, and bask in the warm glow of a successful summer soirée!