Unique Event Catering
Whether it's a class or family reunion for 250, or a backyard birthday party for 25, Burnham's Clambake Catering has you covered with the finest clambakes, lobster bakes and BBQs on the North Shore & Greater Boston.
We work with you to plan an innovative menu for your clambake, picnic, or BBQ. Whether in your backyard, at the beach, your favorite location, or at one of our many event sites we have come to love over the years. A casual clambake is perfect for family gatherings, reunions, corporate events, or special celebrations. You tell us what you want and we will do everything in our power to accommodate you. By working closely together in the planning, our 'take care of everything' approach will give you the opportunity to relax, sit back, enjoy a drink and have your guests in awe of your fabulous party.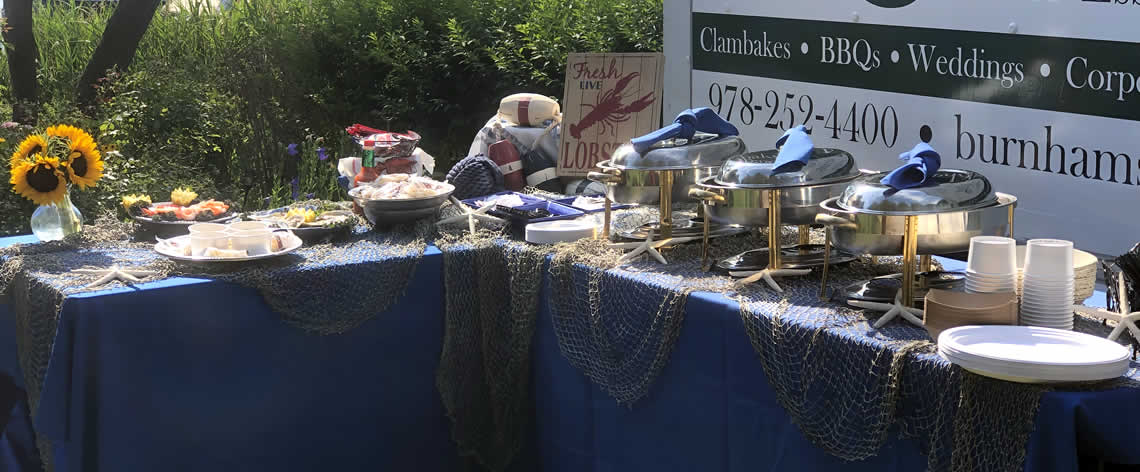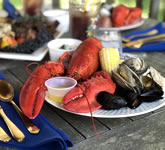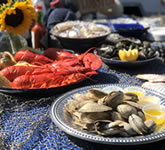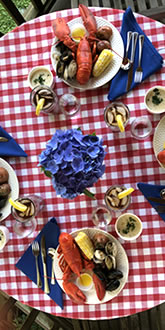 Burnham's Clambake is the best solution for family reunions, anniversaries, weddings, birthdays, graduations, and other special occasions. Catering family events in your backyard, on the beach, at your local club, or a venue of your choice is our specialty. Catered events allow for a wide variety of menu choices - choose from one of our many clambakes options or from a buffet and cocktail menu customized for your specific needs. We cater to a wide range of menu needs including vegetarian, vegan, and gluten free meals as well as specialties for the young ones. Experience authentic New England flavor with a traditional New England clambake. Let us celebrate with you and take your food planning worries away.
Clambakes are not just for summer time, we do them anytime! We bring you the goodness right from the seas of Essex, which is best known for seafood & clams.
Burnham's Clambake caters many types of events all year long!
Clambakes
Weddings
Rehearsal Dinners
Afterparties
Family Reunions
Class Reunions
Country Club Events
Birthday Parties
Corporate Luncheons/Events
Graduations
Anniversary Parties
Dinner Parties
Religious Celebrations
Bar/Bat Mitzvahs
Funeral Receptions
Fundraising Galas