Clambake Weddings & Rehearsal Dinners
Burnham's Clambake is dedicated to providing you with outstanding service, the highest quality seafood & innovative menus creating memorable dining experience for you & your wedding guests.
Here's a budget friendly wedding reception idea: a backyard wedding clambake or BBQ! From the bridal shower, to the rehearsal dinner, to the reception or wedding after-party, we know how to do clambakes the right way! With a clambake or BBQ, the mood is easy, and the food... well, our famous lobsters, clams, mussels, clam chowder and more, make for a full-on feast. Not just for New England natives, this crowd favorite is perfect for a laid back, yet upscale wedding. Get creative with your decor while still keeping with a palette that's classically coastal: red or blue stripes, and white. Go as fancy as you'd like with lobster and large white tents, or stick to a casual setting with picnic tables and rustic fare.
Our authentic New England lobster and clambakes are a popular couples choice and a truly unforgettable New England wedding day experience. Choose your own location and we'll bring the party to you! Formal or informal, clambakes are on the rise when it comes to wedding for brides-to-be who want their reception to have a New England feel or ocean-inspired theme.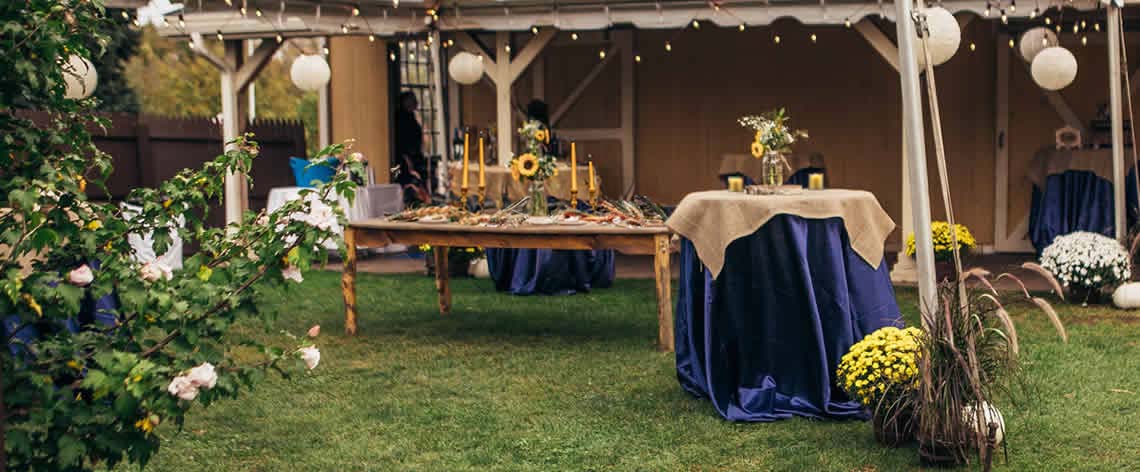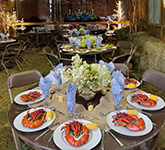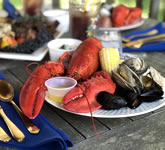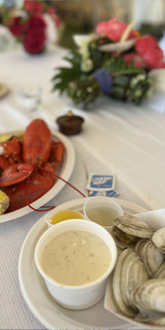 Backyard BBQ's to authentic New England Clambakes
There are weddings people think are nice, and then there are those weddings that people talk about for years to come. That's a Burnham's Clambake kind of wedding. We are all about offering you choices, from a backyard BBQ to a real New England clambake, and everything in between.
We are committed to bringing you a stress free day, and the finest food, artfully prepared and beautifully presented.
The Wedding Rehearsal Dinner
Every wedding needs a rehearsal, and a rehearsal dinner is the perfect time to see that everyone in the wedding gets acquainted. Traditionally, the rehearsal dinner is hosted by the groom's parents. Not only does this take some of the party-planning pressure off the bride and her parents, but it also helps the groom's family feel more involved.
The rehearsal dinner should be fun and lively - but there's no need to upstage or even attempt to equal the wedding itself - a catered event from Burnham's Clambake is the perfect ice breaker.
Did NOAH's Event Center Cancel Your Venue?
A catered event with Burnham's Clambake is the perfect answer. Burnham's Clambake is dedicated to providing you with outstanding service, the highest quality seafood & innovative menus creating memorable dining experience for you & your wedding guests