About Burnham's Clambake
Hi There! We are Don & Melanie Burnham. We've had the pleasure of serving you for over 35 years since our humble beginnings in 1984.
Whether you have had the experience at one of our famous clambakes, enjoyed our awesome clam chowder, amazing steamers, world famous steak tips & succulent lobster, or at one of our past catering events where we spoiled you, exceeded your expectations or just waved at you as we drove by in our white and green truck… Burnham is a name that has come to be one of the most trusted in the Essex, Gloucester, and Cape Ann area. Burnham's Clambake is here for you!
Burnham's Clambake is classic coastal cuisine, serving the freshest seafood directly from the docks of Gloucester for our lobsters and haddock. Our clams are dug locally on the flats of Essex, MA and Ipswich, MA. Local farms provide us with seasonal fresh produce, especially corn on the cob and strawberries for our shortcakes.
We're all about crafting delicious experiences for you and your guests!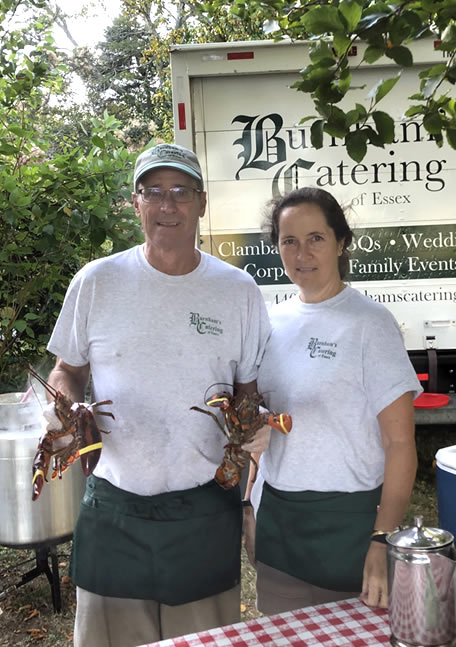 From clambakes, barbeques, weddings, to pre-parties & after-parties, we'll help you create the perfect menu for your event. We pride ourselves in quality food and excellent service. We have competitive pricing and will work with you to accommodate your budget. We'll help you create memories with your event that will last a lifetime! Call to reserve your date today!