Autumn Events Perfect for Catering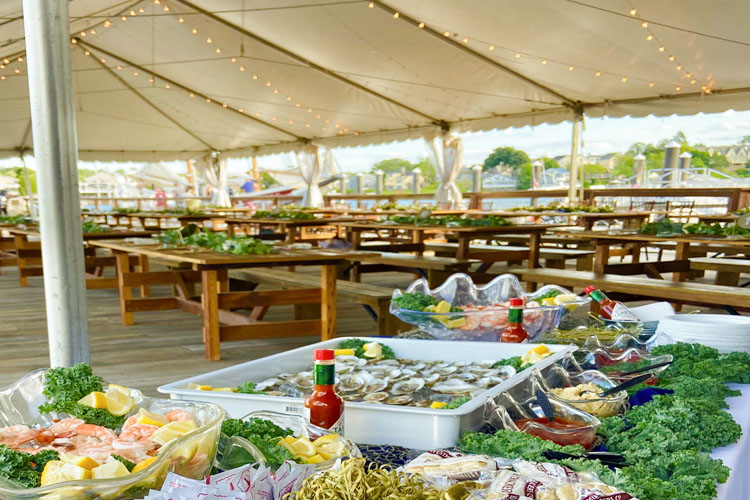 As the summer winds down, and the weather starts to get cooler, people are looking ahead to autumn. In New England, the fall months are some of the most beautiful in the whole country, and although it's a busy time for a lot of people with school and work obligations, there are still a lot of social engagements and events on the calendar. With all the hustle and bustle of the season, sometimes it's just easier to have your next event catered professionally. It takes the guesswork out of the food and drink for the day, as well as provide your guests the delicious tastes of New England from our seasoned chefs at Burnham's Catering. Three types of events for the coming season, and the cold season after, are perfect for catering services.
Casual Autumn Weddings
There is no question, that in New England, autumn is one of the most romantic times of the year. The trees are changing color, the sky is blue, and the air is crisp. It's a great time to get hitched, and many people choose this season as the perfect time to say, 'I Do.' Whether or not you're having the reception outside, which can be a challenge with the unpredictable weather, hiring the right caterer is an integral part of the experience. Fortunately, Burnham's Catering is committed to bringing you a stress-free day, and the finest food, artfully prepared and beautifully presented. Whether it's the wedding reception, the rehearsal dinner, or wedding after-party, we know how to do catering for these events and offer our famous clambakes as an option for the party!
Corporate Events & Outings
How better to say, 'thank you' and we appreciate all your hard work than with a clambake or BBQ catered by Burnham's Catering. Lunch, dinner, evening, or weekend party — you choose the menu, and we will do the rest. Autumn is a busy time for business, and a lot of companies schedule their "end of the year" party sometime during October or November. This is not an event where you want to cut corners or skimp on quality. When you choose Burnham's to cater your company's clambake event, you receive more than great food and service — you get the peace of mind that comes from working with people who know what they're doing and who really care.
Holiday Parties & Gatherings
It's not too early to plan holiday parties! Whether a small family gathering, medium sized company cocktail party, or a large corporate event, Burnham's Catering has you covered. Since Halloween falls in October, and Thanksgiving falls in November, these are some of the busiest weeks for holiday parties. With December also exceptionally busy, many people and organizations hold events and parties in the autumn months or wait until after the New Year. By working closely together in the planning, our "we will take care of everything" approach will give you the opportunity to relax, sit back enjoy a drink and have your guests in awe of your fabulous party. Our goal is to exceed your expectations throughout the entire process. Fill out a quote form today and book your event with us early to secure a spot this holiday season.